George Groves – WBA Super Middleweight Champion
Dan and I have been working together for 2 and half years now. We predominately work on improving my strength and power to increase my performance in the ring. In this time not only my physical shape and PB's improved no end but also my confidence in my own ability to get 100% from my sessions and when competing. His attention to detail is unrivalled. His ability to articulate himself through coaching in a clear and calm manor to me is excellent. He is always looking for his own personal improvements which in turn directly improve his clients, whether that be through new training techniques he has researched or from testing out his own training theories on himself.
"HIS ABILITY TO ARTICULATE HIMSELF THROUGH COACHING IN A CLEAR AND CALM MANOR TO ME IS EXCELLENT"G. Groves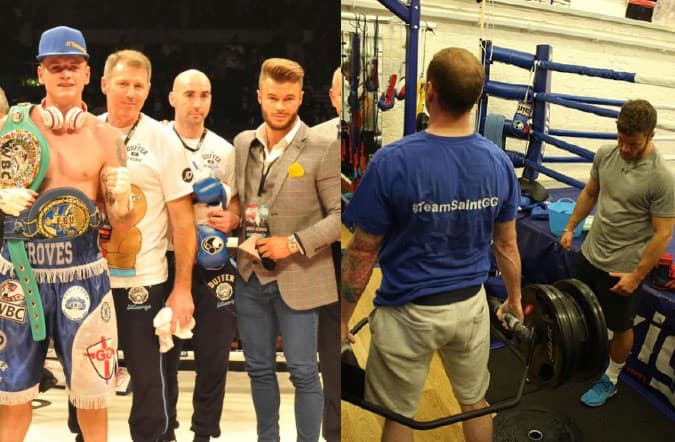 Conor Benn – WBA Continental Welterweight Champion
It goes without saying that on fight night I have to be in peak physical condition. Having Dan on Team Benn as my strength and conditioning coach has enabled me to be at my fittest, strongest and quickest come fight night. Dan's attention to detail and wealth of knowledge has ensured that during camp I meet all my physical demands in the most efficient manner, whilst being in peak condition on fight night.
"HAVING DAN ON TEAM BENN AS MY STRENGTH AND CONDITIONING COACH HAS ENABLED ME TO BE AT MY FITTEST, STRONGEST AND QUICKEST COME FIGHT NIGHT"Conor Benn
Michael Mancienne – Professional
footballer for the New England
Revolution in the MLS
I've used Dan's expertise on numerous occasions over the past 3 years. When at the club we have our training taken care of in-season, but once the season is over and after a short break, I fly back to London and make sure I train with Dan a minimum of 3 x a week to ensure I'm in the best physical condition for the new season. Dan structures our sessions very well, without over complicating things, because of his detailed yet easy to understand explanations I know everything we do has a clear end goal in mind.
"I TRAIN WITH DAN A MINIMUM OF 3 X
A WEEK TO ENSURE I'M IN THE BEST
PHYSICAL CONDITION"
John Ryder – #3 WBA ranked Super Middleweight, former IBF international Super Middleweight champion
Dan and I started training together 8 months ago as I prepared for an upcoming fight; and during this time we had a total of 8 sessions together. Before working with Dan I was relatively inexperienced and new to the weights
room, but with his incredible ability and knowledge he was able to simplify the sessions, making them both easy to understand and execute.
In a short space of time I noticed a solid improvement in my strength, speed and explosiveness, both in the training camp and in the ring. However, Dan's work didn't stop there as he continued to play a crucial role when assisting with my personal warm-up strategy.
We've since continued working together outside the camp and we are now in preparation for my next fight, with early results looking positive. I've continued to notice a considerable improvement in both the weight and speed I'm lifting whilst frequently breaking my previous records.
Dr Scott Robinson – Consultant Performance Nutritionist & Exercise Physiologist
Dan and I work closely on a number of projects involving high performing clientele, of which includes professional boxers.
From speaking with the boxers, and a parallel with my own views, it is apparent that Dan is a respected and core member of each team he is involved within. His professional, detail orientated and thorough approach to his work ensures that each athlete is given every opportunity to maximise their full potential in the gym environment and, importantly, gain all of the possible advantages over their opponent before they step foot in the ring.
The open-line of communication between Dan and I is a particular strong-point as it allows us to align our strategies and provide the level of detail required, with context, to enable the best training camp possible.
I hold Dan's work in the highest regard, and it is clear to see that when it comes to strength and conditioning, he is one of the very best in the field.
I very much look forward to continuing to work with Dan on future projects.